Area of Coverage
The Area of Kumbh this year is increased almost twice in comparison to 2013, previously it was around 1900 hectare in 2013 which was now 3200 hectare. So, it was a challenge to cover multiple events happening at different areas at a time.
To handle such a large scale event, a good amount of dedicated and skilled manpower was the utmost requirement. To fulfill this requirement, we worked on our deployment plan. We managed to deploy a team of 70 professionals who were specialized in the following KRA: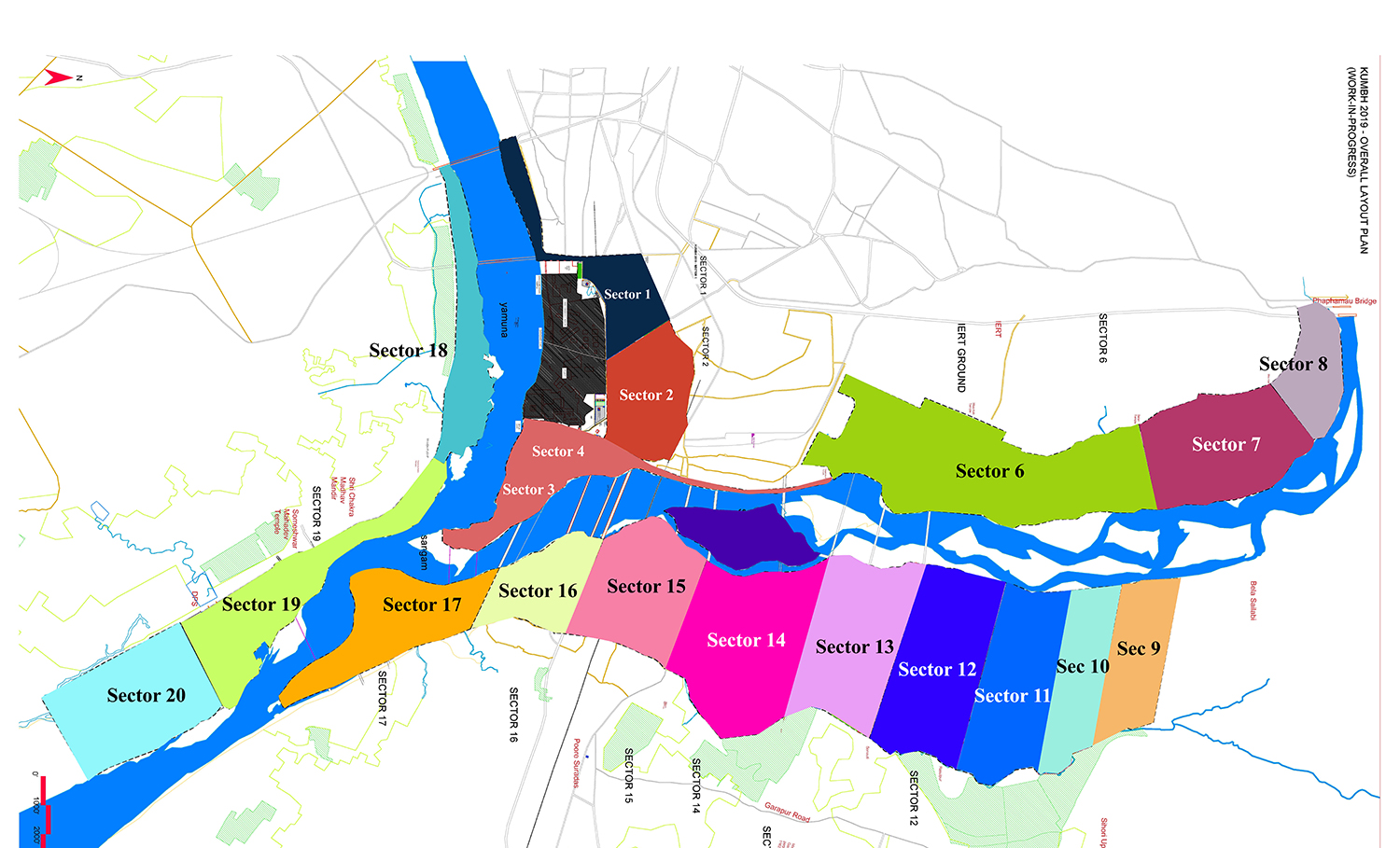 Social Media Management
Video/ Photography
Content Writing
Graphic Designing and
Monitoring
A team of 27+ social media professionals stationed at high-tech media center at Prayagraj for on-site coverage.
15 social media professionals deployed at Lok Bhawan under CM office social media team for trending and Viral activities.
And 28 social media professionals were working at OTPL office Lucknow for overall monitoring & quality assurance.
To cover each and every event right from the Peshwai, Shahi Snan to cultural event and facilities from ground zero, Month-wise Planning for all the Kumbh activities have been done. Creatives and contents were made in advance and repositories were created with a strong backup system. 24×7 coordination was maintained between all the teams to ensure that the coverage of any event should not be missed.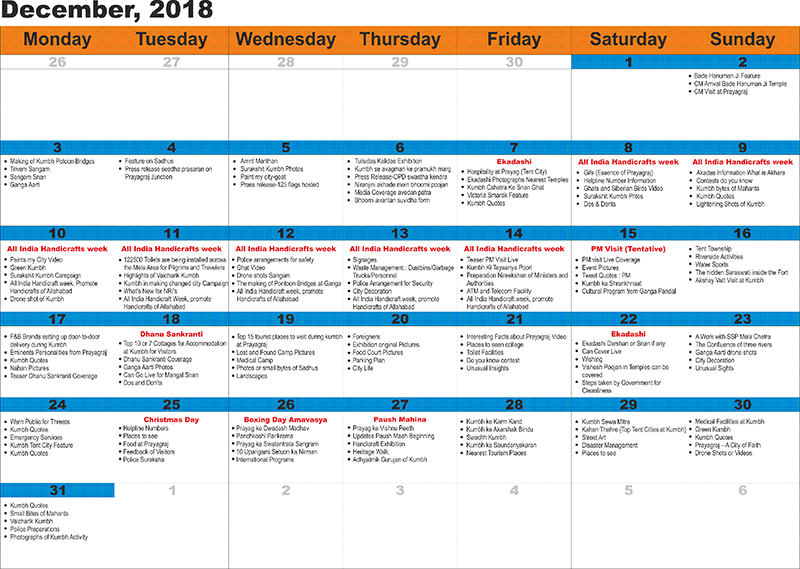 To be the first one to publish the Kumbh activities before the other official Accounts.
Official handles such as U.P. Tourism, Information Department Prayagraj and Kumbh Mela Police and Kumbh Official Account were also active, so it was a challenge to update latest events before them. To overcome this challenge, we have divided the team of Prayagraj into two parts:-
Field Group
Media Centre Group
Field Group was made responsible to cover the ground activities and media center group was responsible for functioning, creating final posts and coordinating with the other two teams.
Harsh Weather Condition during early morning coverage
Live Coverage of Snan during Kumbh on Important Bathing dates at 4 o' clock morning in chilly weather with weak internet connectivity was a big challenge for us.
At every Snan, team reported at venue before the event started. Tweets and Facebook posts were made live to add a feather in the publicity cap of Kumbh across the world.
Security Hurdles during VVIP Visits
During the huge gathering in Kumbh, it was very difficult for the team to cover the VIP and VVIP movements, which were under large security umbrella, in this scenario; our team members faced various restrictions to cover the events. To cross the hurdles of the way, Company utilized its Pro-active functioning and ensured briefing and suitable permissions before every event.
Promotional Activities to increase reach and engagements.
7 Events were created on Facebook to invite people for Kumbh 2019, which has reached upto 1.2 Million people and received 33.5K responses.
We planned the campaigning into following 3 parts:
Pre-Campaigning under which we have created Teasers, Formulated Hashtags Interesting Campaigns like Sharing Important Information, Dos & Don'ts , Paint My City, FAQs etc. and succeeded in creating the buzz all around for Kumbh 2019.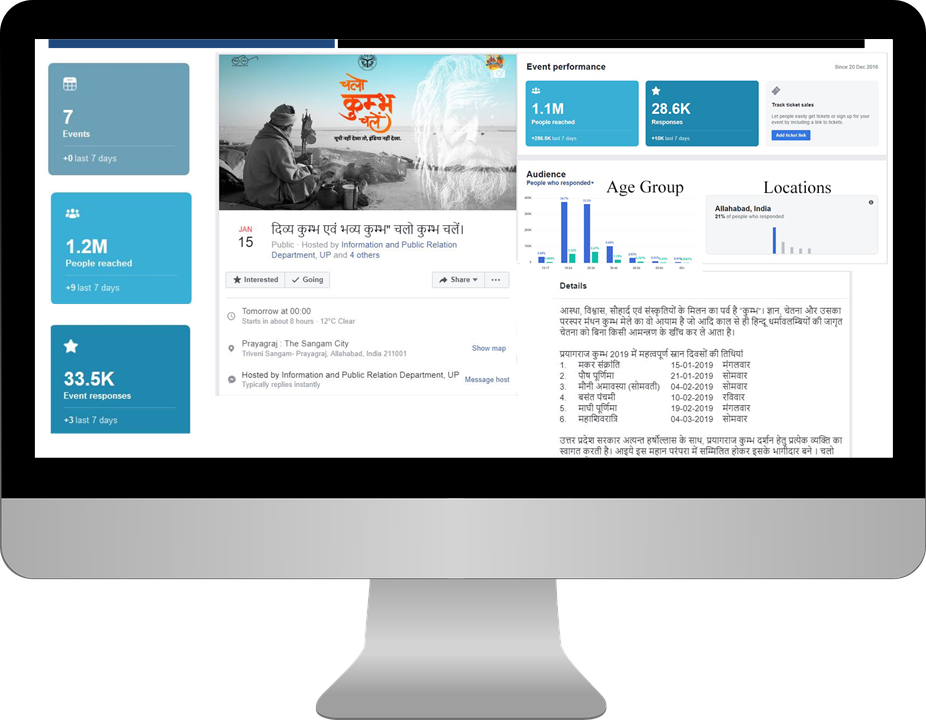 Campaigning, under the scenario, Campaigns like creating awareness about the facilities & provisions made by Government for visitors, coverage of all important events, Live Telecasting on 80+ LEDs installed throughout Prayagraj and real time posting of daily updates like number of devotees, sanitation measures undertaken, participation of locals, world class traffic management, arrangements made by railway, medical facilities, police efforts and all other amenities etc.
World record created, Important Highlights, Kumbh 2013 vs Kumbh 2019, Development of Prayagraj, and Achievements in numbers were promoted for Post Campaigning Phase.
Proper responses to the queries have were to increase engagements.
Maintaining authenticity of the content
Approval of content was done on three levels to maintain authenticity. Approval from OTPL Team, Approval from our Head Advisor, approval from Department
We adopted one more way to maintain authenticity by countering fake news through our official accounts.
Global Trending and Viral
To Trend Kumbh activities at number 1 in India or worldwide was one of the biggest challenges in Kumbh 2019. To overcome this challenge, concept of Chain Promotion was the key. Various Departments and Influencer groups connected with us and the results were remarkable.
3 Hashtags trended worldwide at no. 1;4 Hashtags were trended at no. 1 in India and 22 of them trended at Top 10 in India.